One of the most "baroque" aspects of the work of our early music maestro Christophe Rousset is how prodigious he is. Since his international debut as a harpsichordist of extraordinary taste and talent, he founded and directed Les Talens Lyriques, arguably the company's first instrumental ensemble Historically Informed Performance (HIP). His most public work is with the ensemble, which has just celebrated a remarkable 30th anniversary with live performances of Jean-Baptiste Lully's little-known opera, Psyche.
Count on Psyche appear on disc in a short time; one of Rousset's most important contributions to the knowledge and appreciation of Baroque music, French opera in particular, was his brilliant return of Lully's canon to the active repertoire.
Equally astonishing, Rousset continued to record (and sometimes perform) as a harpsichordist, which revealed a musician not only of tireless virtuosity but of unfathomable interiority. Few keyboard players of all time have demonstrated such a deep connection to the instruments they play.
Rousset's last harpsichord recording is the unexpected The manuscript of Madame Théobon (Apart). This was unexpected as it is a "performance" of an original manuscript that Rousset discovered online (eBay, no less!), purchased, and now shared with the world. Probably an educational collection of 17th century harpsichord pieces, the manuscript as revealed by its new owner is a fascinating catalog of the keyboard idioms of its day.
Christophe Rousset photo: Eric Larrayadieu
In a tangy album note, Rousset unpacks what we know and what we can guess about the manuscript and its namesake. Lydie de Théorbon, servant of Queen Marie-Thérèse, became the wife of King Louis XIV around 1670 and remained in his entourage at the Château de Chambord until around 1872, when she was "expelled" from the court.
Rousset tells the most that is known about the story, but what seems to him of constant interest is that the pieces of the manuscript were probably of the kind that Mademoiselle Theobon would have played as a courtier in the company of the greatest harpsichord teachers of the time.
Rousset performs the pieces on his own 1704 Nicolas Dumont harpsichord, an instrument of ideal brilliance and individuality for its new owner, fresh from its decade-long restoration by David Ley. What first caught Rousset's attention, the visually arresting "unmeasured" preludes so emblematic of early French Baroque, here become the "preludes" to the newly created groups of pieces, here arranged by key rather than order. manuscript (also provided in Scrupulous Notes).
Lest this all sound scholarly or overly didactic, what Rousset unleashed on an unsuspecting world is music of a buoyancy, vitality and what I think we used to call character. His deep investment in Lully's music (whose same sexuality is just one of the many interesting things in his biography) allowed him to identify 34 of these 80 pieces as transcriptions of Lully's operas for the King's court. Sun.
There is no dead time in the two discs of music, and the sequence of pieces by Rousset makes it possible to hear them in all their expressive variety. To cite just one example, the "Gavotte d'Hardel" ends with the fanfare of a "double" (variation) by Louis Couperin, godfather of French harpsichord music and at the center of one of the recordings the most captivating of Rousset (Harmonia Mundi, 2018) on another instrument of great historical importance.
Rousset adds that the "instrumentation" of these outstanding pieces reflects that of Jean-Henri d'Anglebert, among the most illustrious musicians of the court of King Louis XIV, whose complete pieces for harpsichord are the subject of a of Rousset's (Decca) other most important harpsichord recordings, now out of print but awaiting on YouTube for your complete delight.
Also new to HIPsters
While we're in the neighborhood, there are several other new recordings that are among the company's finest flowerings of performing music on instruments and in styles reflecting their eras of origin, one of most important and ambitious musical developments of our time.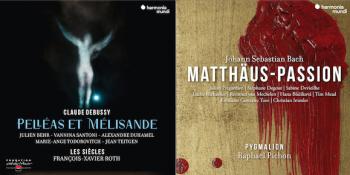 Debussy's opera 'Pelleas et Melisande;' 'St. Mathieu Passion'
Chief among them is the new recording of Debussy's opera Pelléas and Mélisande (Harmonia Mundi). It is directed by François-Xavier Roth, a curious and also prodigious musician, like Rousset one of the most revealing representatives of everything he undertakes.
When what was then known as the original instrument movement came into being a few decades ago, no one would have expected its compass to include one of the great operas of the 20th century, but this Pelleas must be heard to be believed. There's nothing sonically eccentric about it, even though some of it sounds newly composed, but the piece, based on live performances, has a deep resonance and power.
The Easter Passion season will arrive soon enough, and this year brings us a truly festive recording of Bach. Passion according to Saint Matthew (Harmonia Mundi). Recorded in tandem with a live performance of the work in the depths of the pandemic, by Raphaël Pichon's band, Pygmalion, it is both startlingly original and deeply moving. Julian Pregardien is the evangelist I have unknowingly waited a lifetime for, but the story of passion is delightfully and faithfully told by all involved.
The soprano soloist is Sabine Devieilhe, which is reason enough to hear the recording despite the relative scarcity of soprano solos. To hear her at her most tonic, in the cantatas and arias of Bach and Handel (Erato), her new recording with Pygmalion (Pichon is her husband) is of breathtaking quality.
Help keep the Bay Area Reporter going during these trying times. To support local, independent and LGBTQ journalism, consider become a member of the BAR.